Admission Fee : €3.00 (From January 2017)
Wednesday 17th May 2017
"Beneath a Turkish Sky" – The Royal Dublin Fusiliers and the assault on Gallipoli.
Speaker : Philip Lecane
Venue & Time : Royal Marine Hotel, Dun Laoghaire at 8pm
"A Safe Anchorage"

Dun Laoghaire/Kingstown Harbour 1817-2017 -

 A special journal to celebrate the harbour. Cost: €8.00.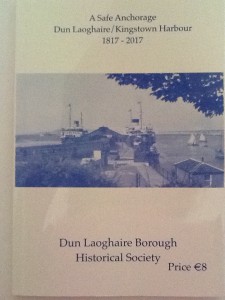 n

*********************************
 Saturday 22nd April 2017
HALF DAY OUTING– GPO 1916 EXHIBITION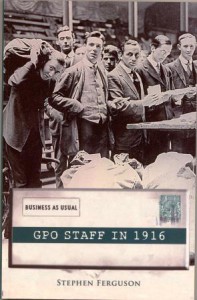 Cost: €20 non-refundable. Payable to Dun Laoghaire Borough Historical Society through Anna Scudds, 7 Northumberland Park, Dun Laoghaire. Ph: 01-2806213 or book at our lectures.
Meet at Sandycove/Glasthule Dart Station Car Park  at 1.15 pm sharp. We will have a guided tour of the exhibition. We hope to be back in Glasthule around 5pm. Note: Only 29 places available
                        *******************************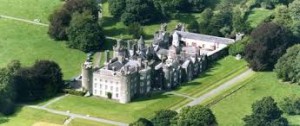 Saturday July 8th
SUMMER OUTING  TO FORE ABBEY & TULLYNALLY CASTLE
Guided tours of Fore Abbey – an old Benedictine Abbey  & Tullynally Castle – The Pakenhams settled there in the 17th century
Cost:€55.00 – includes tea/coffee & scone break in the morning and dinner in the evening. To book a place see Brendan McGovern at our lectures or phone him on 086 273 4200
                                       ***********************
Sunday 24th – Tuesday 26th September 2017
AUTUMN TOUR OF THE MIDLANDS & ENVIRONS
Places are allocated on a first-come-first-served basis. Payment no later than Wednesday 22 March 2017 (Based on 30 travelling) €250 per person sharing twin/double room. Single Supplement €60
The Maldron Hotel, Portlaoise – 2 Nights Dinner, Bed & Breakfast
Guided tours of the following:
Harristown-Brannockstown, Kildare, Emo Court-Laois, Mountmellick Embroidery Museum-Laois, Fancroft Mill-Tipp., Roscrea Castle & Damer House-Tipp., Ollie Hayes's Bar-Moneygall-Offaly, Donaghmore Famine Workhouse Museum-Laois, Holycross Abbey-Tipp & Charleville Castle-Offaly
Cheque payable to "Dun Laoghaire Borough Historical Society". Send cheque with name(s), address and telephone/mobile/email to: Maria O'Flaherty, 29 Northumberland Ave, Dun Laoghaire, Co Dublin. Mob: 087 288 4069
                                       ****************************
The Aims of the Society are to promote and sustain an interest in the Culture, Heritage and History of Ireland, with particular regard to the Dun Laoghaire Area
The Dun Laoghaire Borough Historical Society was started by a number of people who came together out of a love of local environment, its history, and its environs. The first meeting was in the rooms of Dun Laoghaire Credit Union, at 21 Longford Terrace, Monkstown on the 21st April 1978.
The Dun Laoghaire Borough Historical Society is a Member of the Federation of Local History Societies and is supported by local business.