**Please note that Annual Membership Subscriptions are due on January 1st 2023.**
Single: €15:00. Family: €20:00. Retired/Unwaged: €10:00. Retired Family: €15:00
Hon Sec:  Anna Scudds 7 Northumberland Park Dun Laoghaire, Co Dublin PH 012806213 not after 9pm local time.
Wednesday 6th December 2023

"Champagne, Cocktails and Crepes Suzette" 
Wining, dining and dancing in Dun Laoghaire through the ages.
Speaker Eileen O'Duffy
Venue: The Royal Marine Hotel, Marine Road, Dun Laoghaire 
Time: 8 p.m.
Entrance Fee: €5.00
FREE PARKING for those attending lecture
***************************************************************
Dún Laoghaire Journal No. 33 (2024)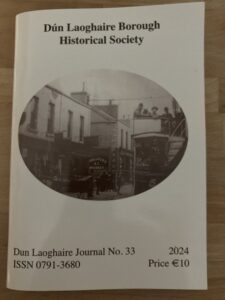 We launched Journal No 33 (2024) at our October lecture. It is available at our monthly lectures and from the following shops:
  Dalkey News, Castle Street, Dalkey
• Eason, Marine Road, Dún Laoghaire
• Dubray, Dún Laoghaire Shopping Centre
• Hewett Newsagent, Monkstown
• Eamonn's Bookshop, Sandycove
• From our Hon Sec – Send cheque for €14.50 (this includes €4.50 p&p) to: Anna Scudds, 7 Northumberland Park, Dún Laoghaire Co. Dublin
******************************************************
The Aims of the Society are to promote and sustain an interest in the Culture, Heritage and History of Ireland, with particular regard to the Dun Laoghaire Area.

The Dun Laoghaire Borough Historical Society was started by a number of people who came together out of a love of local environment, its history, and its environs. The first meeting was in the rooms of Dun Laoghaire Credit Union, at 21 Longford Terrace, Monkstown on the 21st April 1978.
The Dun Laoghaire Borough Historical Society is a Member of the Federation of Local History Societies and is supported by local business.